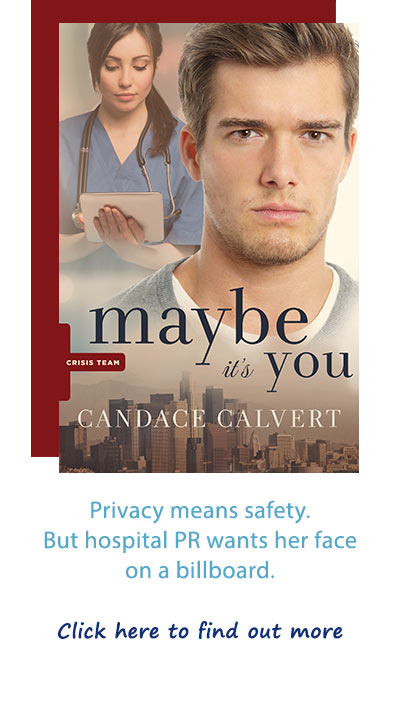 Welcome to my website!
Folks like to call me the author of "medical hope opera"-- I couldn't be more pleased. Long (and colorful) years as an ER nurse convinced me that love, laughter and faith are the very best medicines. And that's exactly what I offer in my Mercy Hospital, Grace Medical, and Crisis Team series: unforgettable characters, adrenalin-infused action, humor, heartwarming romance, and an encouraging message of hope. In these challenging times, just what the doctor ordered. So grab a cup of cyber-coffee and take your time browsing: read my bio (nurse to trauma victim to inspirational author) and check out the free first chapters, reviews and extras.
To interact with a lively group of fellow readers and have an opportunity to participate in fun giveaways, please "Like" my FaceBook Fan Page.

I love getting to know my readers, so feel free to drop me a note any time via my Contact Page.

As always, I'm happy to send free bookmarks and bookplates; just let me know. And (new, also free) I can now personalize and "sign" your e-books via Authorgraph. How cool is that?"

It's a delight to connect with libraries, church groups, and Book Clubs—let's Skype!

Thank you for stopping by. I'm honored to have you "scrub in."

Happy reading!





"Candace Calvert is a master storyteller at the pinnacle of her career . . . Don't miss out on Step by Step."
-- Jordyn Redwood, author of The Bloodline Trilogy

" Calvert is a master at combining medical drama, romance and a bit of suspense to create a captivating
tale . . ."
--Melissa Parcel, Romantic Times Reviews

" Just like an outstanding episode of Grey's Anatomy . . . evokes a realistic and intriguing world readers will definitely want to return to."
--Booklist

" . . . had me intrigued by page 1, laughing by page 2, and in love with the hero by Page 3."
--Jordyn Redwood, The Bloodline Trilogy

" . . . medical scenes that ring with authenticity and drama, while giving us a glimpse into the lives and hearts of the people behind the stethoscope . . ."
--Richard L. Mabry, MD, the Prescription for Trouble series

" . . . adrenaline high, ripped from today's headlines, with enough romantic tension to spike your pulse."
--Julie Lessman, award winning author of the Daughters of Boston series

" . . . an infusion of hope . . . read it and repeat dosage as necessary!"
--Mocha with Linda reviews